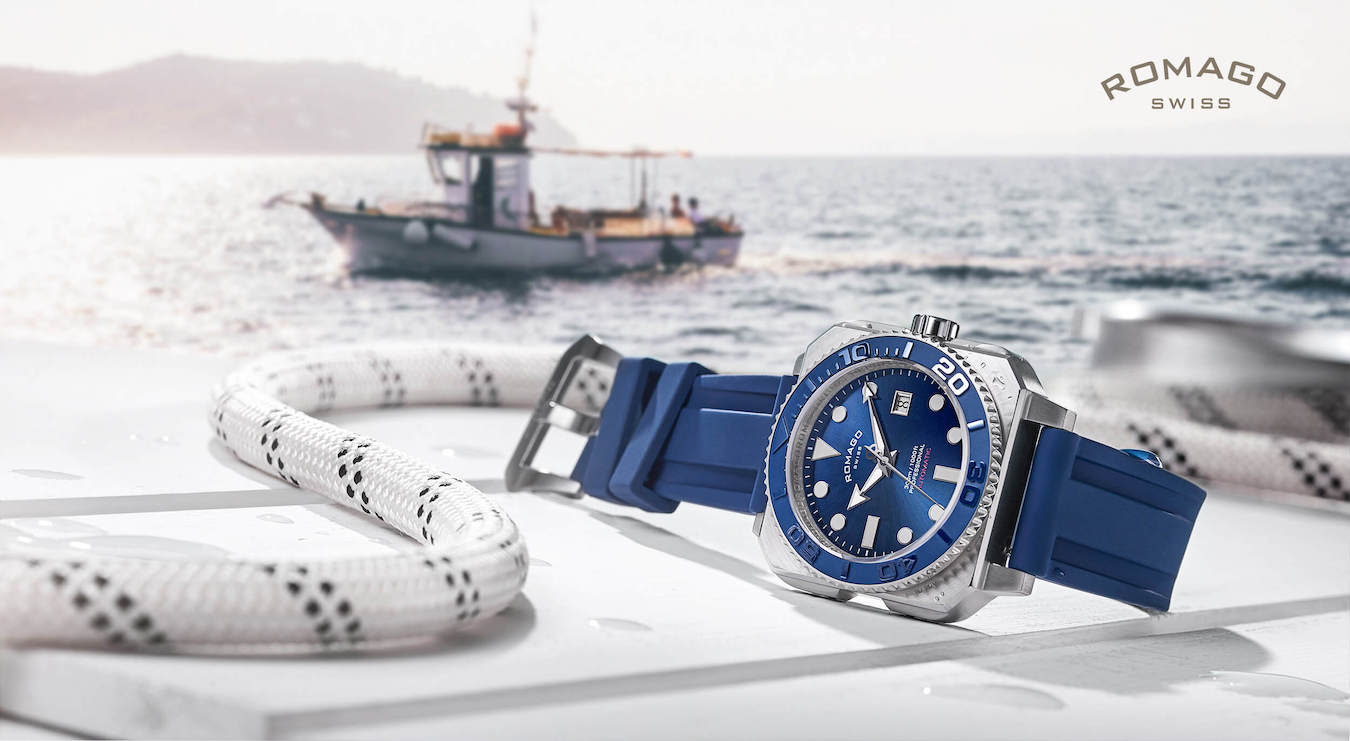 At the heart of ROMAGO SWISS are artfully-made Swiss watches.
ROMAGO Swiss is a luxury Swiss watch brand that originated its business in deluxe custom made timepieces for collectors. The brand continued to grow over time and in 2004, ROMAGO Swiss gradually changed its market direction to a post-modern Swiss watch brand. Nowadays the brand is focusing on timepieces with sleek designs using unique materials and new manufacturing technologies.
Mr. Racine, the co-founder of ROMAGO Swiss, was an independent watchmaker since the 1960s. His watch designs each showcased his superb watchmaking skills with distinctive character. Inspired by the ancient Chinese philosophy "Tian Yuan Di Fang", the heaven is round and the earth is square, Mr. Racine designed ROMAGO Swiss signature octagon watch case which shows a perfect complementarity of rigidity and mellowness.
ROMAGO Swiss is always seeking for innovation and novelty in terms of components and production methods. The brand is devoted in manufacturing cases not only with exceptional design but with advanced materials and technologies as well. Accompanied by different dial concepts and materials in pursuit for a post-modern Swiss watch look. Each and every ROMAGO Swiss watch collection comes with its own story and design philosophy. It is a timepiece endowed with interesting elements.
Apart from the caliber of the movement, the case materials are carefully selected. Mr. Racine noticed all the fine watches are using sapphire crystal for lens making. He hopes to extend the use of sapphire to a higher level by creating a watch case entirely made by sapphire crystal. Since sapphire is an extremely strong crystal, it requires special carving technique in making precision components. After years of research and trials, ROMAGO Swiss successfully launched its very first sapphire case watch in 2017. Today ROMAGO Swiss improved the manufacturing technique and has created 7 colors of this unique full sapphire case watch.
ROMAGO Swiss is working to expand the color variety of the sapphire case collection and is also exploring the possibility of bringing in other interesting high-tech or precious materials for watch development. It aims to refresh the traditional Swiss watch manufacturing industry and bring in new energy.
Present this sincere gift to someone special, or even to yourself. Now you can explore and buy a ROMAGO SWISS watch right here in Singapore at Leong Poh Kee.
ROMAGO SWISS Watches
Known for their strong Swiss identity and distinct design personality, the ROMAGO SWISS watch company carries designs for discerning gentlemen and ladies who are looking for something uniquely beautiful. Across their designs, the iconic skeleton style has permeated and formed the core palette of much of ROMAGO's watch styles.
ROMAGO SWISS also delights with their limited edition ranges from time to time, heightening the sense of exclusivity and prestige associated with the brand.
Soak in luxury and superiority with a ROMAGO watch. Explore and buy gents' and ladies' watches here at Leong Poh Kee, a proud distributor of ROMAGO SWISS watches in Singapore.